British PM on Syria attacks
But her move to add British Tornado jets to USA and French forces that launched around 105 missiles in the early hours of Saturday might be met with retaliatory measures by Syrian ally Russian Federation and breaks with a convention to obtain parliamentary approval for military action dating back to the 2003 Iraq war.
These missile strikes were coordinated by the U.S., France and the U.K.in response to an alleged chemical attack by the Syrian government in Douma last week.
"We have hit a specific and limited set of targets", she said.
"This is not about intervening in a civil war. It is not about regime change", May said in a statement. As a result of this attack at least 70 people died.
Trump said he has ordered "precision strikes" against Syria, where dozens of people were killed last weekend in a suspected toxic gas attack on Douma, the largest town in a former rebel stronghold outside Damascus.
The PM has not ruled out further action if Syria continues to use chemical weapons.
Trump said the strikes were in coordination with France and the United Kingdom, adding that the objective of the campaign is to "establish a strong deterrent against the production, spread and use of chemical weapons".
According to Pentagon officials, the attacks targeted the heart of Syrian President Bashar Assad's schemes to develop chemical weapons, the Daily Mail reports.
The MoD added the facility was located "some distance" from "concentrations of civilian habitation", and the risk of contamination to the surrounding area had been minimised.
Theresa May is preparing to face questions from MPs about her decision to launch air strikes against military targets in Syria alongside the United States and France.
"There is no graver decision for a prime minister than to commit our forces to combat and this is the first time I have had to do so", she said.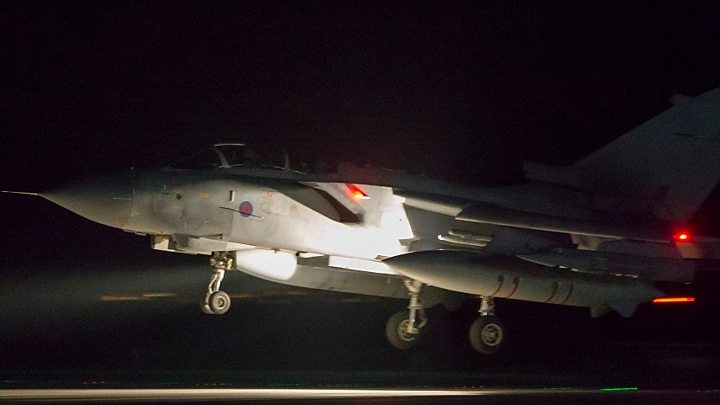 Media playback is unsupported on your device Media caption Syria strikes 'degraded' Assad's chemical weapons ability
She said speed was essential and that military action was in the national interest.
We can not allow the use of chemical weapons to become normalised, either in Syria, on the streets of the United Kingdom or elsewhere.
Many politicians in Britain, including some in May's own Conservative Party, had called for parliament to be recalled from a break to give authority to any military strike.
"A clear precedent was set in 2015 ahead of the targeted strikes against Daesh - yet the Prime Minister made a decision to ignore this before launching airstrikes".
A YouGov poll for The Times newspaper this week indicated that only a fifth of voters believed that Britain should launch attacks on Syrian military targets and more than two-fifths opposed action.
A source close to Labour leader Jeremy Corbyn has described the Prime Minister's announcement of an emergency debate as "very odd, panicky and weak".
"Bombing can not substitute for diplomacy", he said.
In a statement released on Facebook, Corbyn, who is also the head of Labour Party, said: "Theresa May should have sought parliamentary approval, not tailed after Donald Trump".
"But I believe it should also be a message to others that the global community is not going to stand by and allow chemical weapons to be used with impunity".
Continuing: "This legally questionable action risks escalating further, as United States defence secretary James Mattis has admitted, an already devastating conflict and therefore makes real accountability for war crimes and use of chemical weapons less, not more likely".